2008 CLK Coupé DTM AMG Streetversion
Made by
Kyosho
Type
: A209
Part Number
: B6 696 2271
Price : € 84
One of the first releases (and long expected ) releases of 2008.... and I have mixed feelings about this car...
It comes in the new Mercedes diecast box and has the AMG label printed on the front...
Exterior :
This time the paint is not what you would expect,(at least not on my model...I have a dull spot on the engine hood that I did not manage to remove properly. It's difficult to see, but it's there. Probably just a coincidence and its not that big, so I will not return the car..
Keeping this out of consideration, the exterior looks great...
Interior :
For once, a nicely detailed dashboard, carpet everywhere, dual-tone seats and detailed fabric 4-points seatbelts going through both seats and attached at the back of the car...Notice the fire extinguisher behind the passenger seat...Great job !!
Engine :
This is the downside of this car...little detail and they must have been thinking : "Black is beautiful"...
Trunk :
Opening trunk with photo etched logo, a big spoiler on top and carpet inside...
Some close ups....
Family shot :
Street :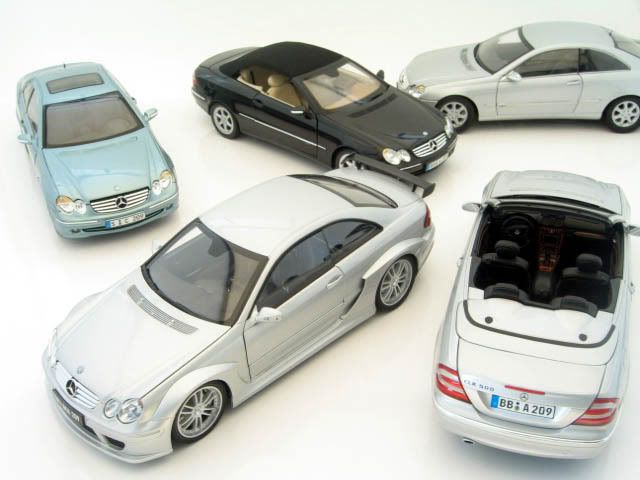 Race :
Conclusion :
Looking at the 1:1, you have that 'wow' factor, but I do not get the same feeling with this 1:18...it's nicely done, but there is someting missing....wrong color ? The car does not have or show that aggressive look I like....Perhaps it's just me... On the other side : the interior looks just great, everything you want for a 1:18....Let's see what the cabrio version will bring us...