2007 S204 Estate 'Elegance' by AutoArt
Made by
AutoArt
Part number
: B6 696 2349
Type
: S204 Estate
Price : 50 € ( $ 70.00)
This is the Estate version of the W204 Sedan released earlier this year. It's another good effort done by AA ( remember the dealer W221 S class ).
The car comes in the new designed dealer boxes and is attached with four screws in a styrofoam container.
There are 3 dealer colors available on the Elegance version :
696 2349 : Obsidian Black
696 2350 : Palladium Silver
696 2351 : Tansanit Blue
Exterior :
Interior :
Carpet, nicely done dashboard, rubber seat belts, non-realistic wood trimming on the doors and console between the driver and passenger seat…
Trunk :
- carpet
Engine :
Some detail :
Top view :
Estate Avantgarde versus Elegance
Front :
Of course there is the different position of the Mercedes star (hood vs grill), chrome on the fog lights.
Back :
Only one difference : double exhaust pipes on the Avantgarde (has to do with the V6-engine).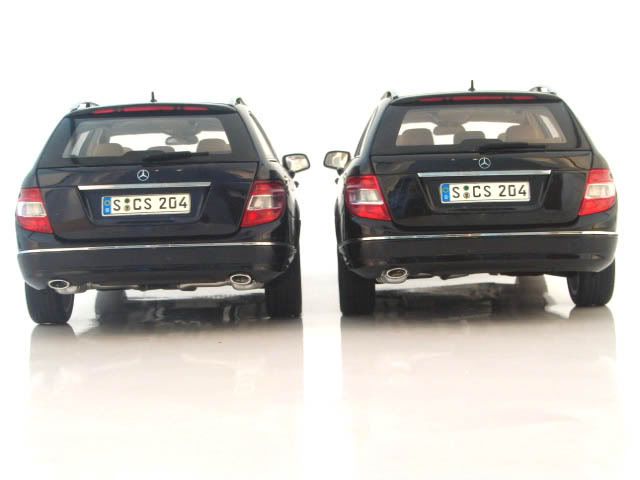 Rims and suspension :
Perhaps it just my view, but I have the idea that the Avantgarde is just a little closer to the ground....
Engine :
V6 vs 4 in line...
Shot on the inside of the doorpanel..