2007 C Class 'Avantgarde'
Made by AutoArt
Type : W204
Part number : B6 696 2369
This car comes in 3 colors :
B6 696 2369 : Palladium Silver
B6 696 2367 : Lava Black
B6 696 2368 : Iridium Silver
Price : € 50.00 ($ 65.00)
I've bought the Palladium Silver one because I already have enough Iridium and Black ones...
It comes in a completely new type of box : partly styrofoam, partly transparant plastic and the model is attached with 4 screws ( so lots of fun for the screw-addicts here). The outside of the box has only written a big 'C' on it...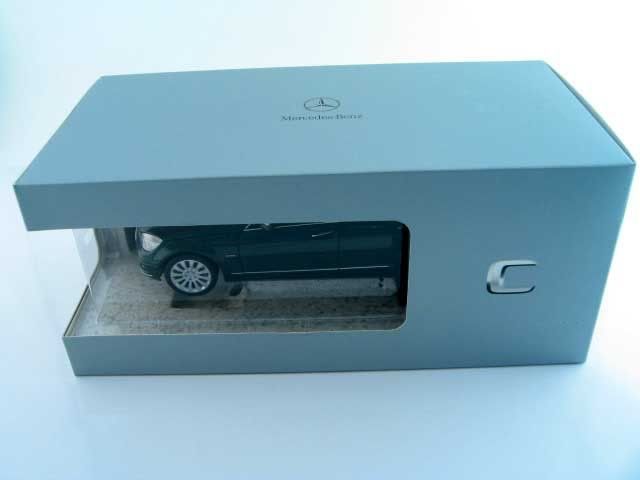 (this is the box of the Elegance)
Exterior :
Overall and at first sight this is a very goodlooking model, smooth surface/paint and no visible defects. No visible attachments of the head and backlights. Nice and thin chrome lines around the car. No logo or type (except the 3-pointed star) on the trunk. Panoramic sunroof (non working).
All four doors open. So does the trunk and engine hood. You have to remove 2 rubber straps at the inside that keep all the doors shut. The windows are closed.
Double exhaust on the Avantgarde. And a big 3-pointed star fitted in the frontgrill
Interior :
Carpet in the interior and trunk. Plastic seats. The safety belts are painted (?!) at the frontseats and made out of rubber in the back. Nicely done dashboard with some silver accents.
Doorhinges :
Frontdoor :

Engine :
It looks like they have put a V6 engine (but not sure) but not much detail, no wiring...
Unmarked tires with 5 double spoked rims...Fixed brake disks and calipers.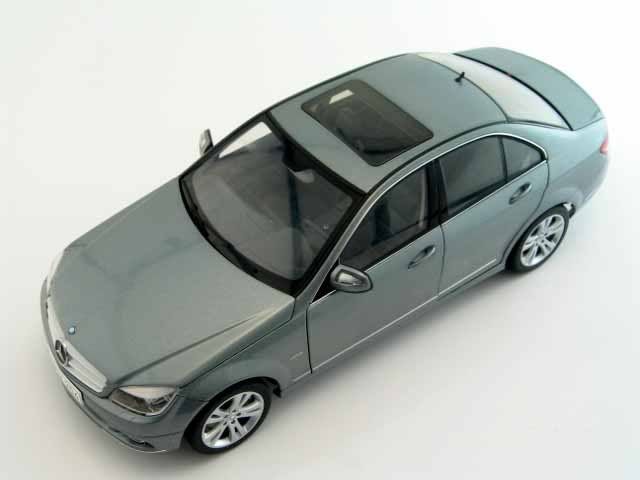 Conclusion :
Overall, I'm quite happy with this car. Compared to the previous dealer editions, this one is well done. And I don't think AutoArt will do better if they release their own retail version of this W204. This car is just OK...