2005 R Class Dealer edition
Made by Minichamps
Type : W251
Part number : B6 696 2324
Price : around 40 Euro (USD 48,00)
Exterior : This is a well made car, not high end (as the 300SL) but still well done.The paint is applied in a smooth, flawless layer (the Cubanit Silver one). I've heard from the dealer they had to sent back all the Black and Iridium Silver ones because of paint problems. Realistically detailed head and tail light. Only attachment points are visible in the foglights. All four doors, trunk and enginehood open. The shutlines are tight. All four windows are closed and are finished with a chrome line. The doors open on a small hinge. There is a plastic sunroof (divided in 2) that covers most of the top of the car.The five-spoked wheels are not marked.
Interior : Lots of detail, especially the interior. No carpet, but very detailed steering wheel and dashboard. 4 cupholders are present in the middle console (2 in front and 2 in the back). There are three rows of seats, but the back seats can not be reached. The seats on the second row can not be moved..not even with a simple 'folding' mechanism...perhaps this will be something for the high end W251 ?There is a non-realistic woodfinish and the seats are not done any better...This is the only negative I can tell about this car....
Engine : Not much to tell about the engine...the engines of these modern cars tend to be hidden under a big plastic cover.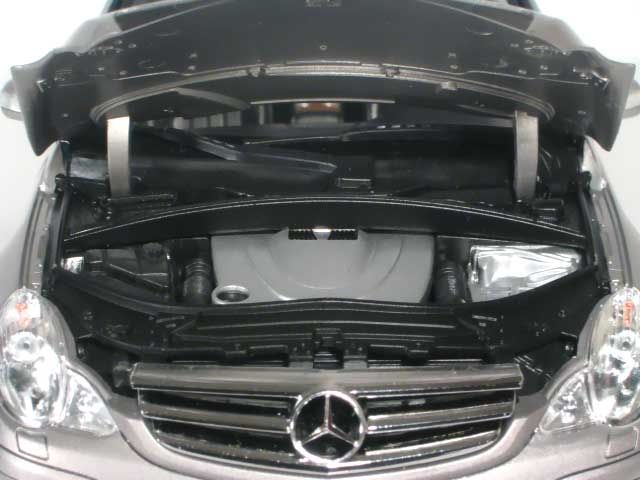 Conclusion : Overall, if you look at the price vs quality rate, this car scores very good..it's not the most beautiful car ever made by Daimler Chrysler, but if I had a big family, I think I would consider buying the 1:1....