1938 Mercedes Benz G4 Cabrio
Made by Signature Models
Type : W31/W131
Part number : 34370
Price : 99 €
Including 3 1:18 figures
Date of purchase : Nov 2008
This car was produced from 1934 to 1939, had 3 wheel-axles and a topspeed of 67 kph/42mph. Only 57 were built and they were used for off-road duty (especially during WWII). Only 3 G4's still excist in original state.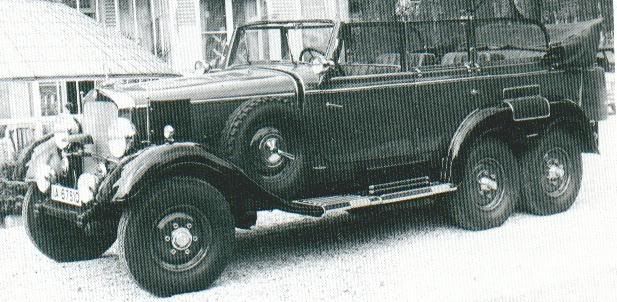 Again Signature models did a good job on this one (after the release of the 770's). At this time they come in two colors : white and black.
The car comes in a new box that closes in the front with a magnetic closure and the box gives a luxurious impression...
Exterior :
A very high detailed car with lots of chrome finishing, two spare tires and a nice paint job. The front door open to the back and have windows, the doors in the back open in a regular way.The folded hood is in plastic. At the back of the car there is a little trunk that opens upward and has carpet inside...
View on the double rear axles :
Interior :
Carpet on the floor; great detailed dashboard, chrome grips on the bach of each seat and something that looks like a gun holster at the inside of both back doors...
Engine :
The engine hood opens both sides...
Chassis :
Normally I do not pay much attention to the underside of the car, but this one is nicely done...
Four opening doors :
The first 1:18 figures in my collection :
And now all in position :
Next to the 770 Cabrio and limo...while the military staff has changed their ride...